Search engine optimization (SEO) is a deliberate process of getting website traffic from free, organic search results or via links from other pages on the web. Search engines like Google, Bing, and Yahoo crawl the internet trying to understand what each and every page is about so it can provide searchers with relevant search results.
During an search engine optimization process we analyze your website to ensure that all the on page elements – those you can see and those can't see in the html code, are there and aligned with the search intent of your prospective customers.
SEO Basics Explained
The team at Search Engine Land teamed up with the Common Craft to explain just what SEO is in the following movie.  If you've got 3 minutes, the movie will help you understand some of the basic aspects of search engine optimization.
Now that's a high level overview of what search engine optimization is but we often need to go beyond that, especially in highly competitive verticals. But it all starts with the basics – important details that unfortunately many website designers don't pay attention too.
Visit our blog post if you want a more in depth view of what SEO is and why it is important.
Why SEO Matters for Your Fuquay-Varina Business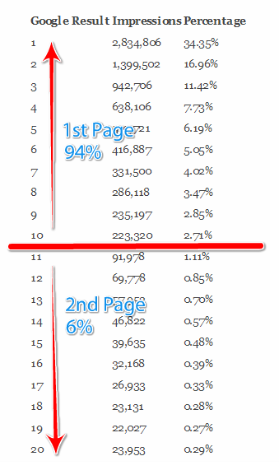 A recent study demonstrated that less than 6% of search engine users visited the second page of results. You can see the click through rate for each of the first 20 positions in the chart on the rights.
In reporting the First Page vs. Second Page study the team at Gravitate Online said:
A sample of over 8 million clicks shows that over 94% of users clicked on a first page result and less than 6% actually clicking to the second page and selecting a result displayed there.  One of the biggest drop off's is between the 10 spot (bottom of the first page) and the 11 spot (top of the second page) from 2.71% down to 1.11%. That's a 143% dip from one position to the next.
What's the moral of the study? If your website is not on page one of Google your business is practically invisible to the world!
Get Your Fuquay-Varina Business Website Optimized Today!
If you've tried finding your website in search engines for keywords and phrases related to your products or services and you are not on the first page of results call us today at 919-346-3307.  Or, request a free SEO audit and price estimate using this form.

About the Author
Stephen Peacock, owner of Peacock Creative Services is on a mission to optimize Fuquay-Varina business websites. If you are ready to optimize your website contact him at 919-346-3307, or reach out to him on one of the following social networks.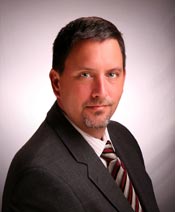 Connect on Google Plus +Stephen Peacock
Like Peacock Creative Services on Facebook
Follow @stephenpeacock on Twitter